Listen to the audio-recording of my keynote speech at the Tourism Talks in Antwerp (November 22, 2018) celebrating the 70th anniversary of the European Travel Commission, with special thanks to Visit Flanders and the commission and its team for inviting me (and for providing the above picture).
Here's the text:
It is a great honour to celebrate the European Travel Commission's 70th birthday with you. I am not that old, but I did reach the respectable age of 50 this year. I don't know about you, now that you are seventy and all, but I did not experience any pain, if you accept some of the inconveniences of old age.
In May, to celebrate the fact that I survived for so long, my wife created a whole year's event calendar around my passion for live music. She took me to Tomorrowland and Sziget festival in Budapest. My son Hans took me to Rock Werchter and my daughter Rosa, well, my 16 year old Rosa and I, we are in love with Tamino. He's a rapidly rising star with Egyptian roots who was born and raised right here in Antwerp. So, Rosa decided to take me to see Tamino, in … Istanbul. Because of his heritage, that has influenced his music, Tamino is very popular in the Middle East.
So we flew up and down to Istanbul for two nights, a concert and a selfie. Very irresponsible, but, this time round I wasn't going to waste an opportunity to share a potentially life changing experience with my daughter (and was willing to pay for it as well).
Why Istanbul? Rosa had learned about it in school and was captivated by the idea of a city on the water and on the border between Asia and Europe.
By the way, it did raise some doubts in my mind about the Belgian education system. When we visited the Hagia Sophia Rosa insisted we didn't need a guide, because she had learned everything there is to know about the Hagia Sophia in school. So I asked her what she'd learned. Well, she said, it was a church and now it is mosque. That was it.
Anyway, Istanbul; it's a name that rings like a bell and conjures up images that stay with us. Some places do that; they are beacons in our collective consciousness.
Imaginative Communities
Are any of you really surprised, therefore, that we now talk about overtourism in places like Amsterdam, Venice or Barcelona?
They are and have been for many years… what I call in my book… Imaginative Communities.
They firmly established a presence in our mental landscapes. They are on everyone's bucket list. Their residents are members of a proud community that has a sense of comradeship, belonging and purpose (in fact, in the case of the people of Antwerp, they refer to everything that is outside of the city as irrelevant "parking space"; and everything outside of Amsterdam is "the province". And vice versa, people in the hinterland of these proud communities, in many countries, feel that those who live there are arrogant and condescending).
But these famous communities have indeed produced imaginative stuff like the canal system in Amsterdam, or Gaudi's heritage in Barcelona. They are recognizable from space.
Hence, it should not really surprise us that with the democratization of travel, these places are now flooded by visitors. They have planted their seeds in peoples' minds a long time ago and now we reap the results.
Why study Community Reputation?
So why did I dedicate my career to the study of community reputation? Well, when I was 16 myself, I wouldn't dream of suggesting to my mother (a single mom) to take me to Istanbul, regardless of how much I would have loved to. She took me from my native The Hague to Antwerp, only a two-hour drive, but, for me, a different world. I was hooked. These people spoke our language, but in a funny sort of way, gentle and more elegant. The architecture was different, the food was much better and the people more fashionable. I still feel very lucky today that I live here now and you can see that I've done the acculturation integration programme.
But Antwerp awoke my travel genes. When I was 19, I was driving old Peugeot cars through the Sahara.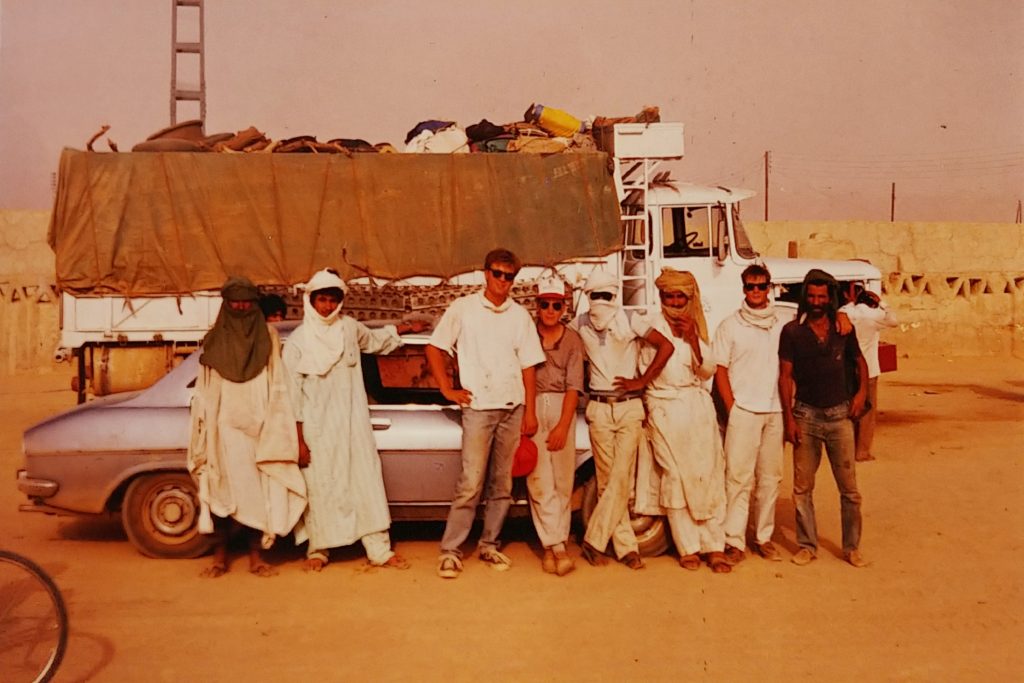 This picture was taken near the town of Arlit in Niger, close to the Algerian border, smack in the middle of the desert. I would not go there now if I were you. It is full of trans-migrants, people smugglers, thugs and villains taking advantage of the human suffering we created.
I've been around the world and am still intrigued by why some places are famous and other are not while I think they all… have something to discover.
I've studied this for the last 20 years and concluded that it's not about marketing, not about advertising and not about propaganda. It is about, what I call, action communication. Doing real things imaginatively. Showing, through policies, infrastructures, events, architecture, what a community stands for in a way that captivates.
Actions Speak Louder than Words
What makes me so sure that I decided to write a book about it? Well, over the last ten years I have collaborated extensively with Simon Anholt, the founding father and global authority in this field. He created the Nation Brands Index in 2005. Annually it ranks 50 countries on how well-known and admired they are globally. It is a survey based measurement of perception. You might be familiar with the index and know that it is rather stable. It seems that people around the world don't generally change their minds about other countries very easily. It convinced Simon and I that the reputation of a country is built over a long period of time and is based on how a country acts and not how it communicates.
This sparked the idea for the Good Country Index, which measures the actual impact that countries have outside their borders. It measures countries real contribution to humanity and the planet, in terms of science and technology, global culture, health and wellbeing, planet and climate, peace and justice and other dimensions. So, here it comes… when we correlate these two indexes, one a measurement of global perception, the other of real global impact, we found that there is a very strong correlation between the two. Depending on the year of measurement, the correlation is somewhere over 80%. This proves that countries are admired for what they do and not for what they say about themselves. Yet, by doing things imaginatively, you can speed up the process.
Examples of Imaginative Communities
Examples of communities that have recently emerged onto the global stage by being imaginative, as I describe them in my book, are:
Estonia, a country that has been invaded and occupied so many times over the course of its history that on independence from the Soviet Union in 1991 Estonians must have thought there was no point in hanging on to territory. In twenty years they built the most advanced e-state in the world. They wrote into their constitution that Internet Access should be a human right; they created an e-residency program, allowing non-nationals access to their public online services and banking system, effectively creating the opportunity for non-European citizens to set-up a legit European business virtually. And the last initiative that they started a year ago was to create e-embassies, where they install processing and backup services in their embassies in friendly countries to strengthen their cyber security.
Bhutan, a country that has long prioritized wellbeing over material gain, has come up with the idea of gross national happiness, a happiness institute and annual conferences, now exported around the globe.
The Hague, city of Peace and Justice, creating their own peace festival and cyber security delta.
These are just some examples of imaginative communities. But, in my travels I've also come to realize that Europe as a continent is amazing!
Europe
Every year around Easter I teach at the UNESCO World Heritage at Work Master programme in Torino, Italy. We always use it as an opportunity to see some of Italy. We leave early, cross into Luxembourg, France, Switzerland and then have a late lunch on lake Lugano in order to have dinner in Firenze. Doing 5 countries, 5 language areas in one day. Where can you do that?
As a union we have achieved remarkable things. Borderless travel is mind-blowing. We still have a running family joke that when we cross into Germany, we'll collectively shout "passe bitte", a nostalgic reference to nightly customs checks on our way to the ski resorts in the Alps back in the Seventies. We have completely forgotten, and younger generations are completely ignorant, of how special it is to be able to go from country to country without border checks. There are people elsewhere in the world risking their lives crossing borders.
The single currency is quite an achievement and great for tourism; as is the single market, regardless of all their pros and cons. The problem is, these initiatives have been developed and put in place by technocrats, objectified, made accountable and have been sold to us by showing their economic benefits. All of that makes complete common sense, but, to quote the US president in House of Cards, there is one problem with common sense, it is so common. We have Schengen and the Euro; how boring is that? Can you think of a less exciting way to sell the idea of borderless and currency exchange free travel?
Future Europe
The question is: who are we Europeans? What is our shared history, our shared identity, our shared purpose.
There are so many opportunities.
For starters: Schengen has resulted in these liminal spaces, these demilitarized zones between European countries where border patrol facilities used to be. Can't we do something creative there with landscape architecture or arts?
Can we re-create the Roman Limes across Europe? Physically, virtually?
We can show how Caravaggio influenced Rubens and Rembrandt?
Why does the commission finance competition between cultural capitals? We should finance collaboration. Maybe come up with thematic years and encourage as many cities, regions and countries as we can, across Europe to participate through seed funding.
How can we link-up regional development funds to create joined-up and truly European projects?
I am absolutely convinced that there is so much more that we can do.
Conclusion
We often forget, because of our daily struggles with illegal immigration and financial instability, but Europe has real meaning out there. People around the world admire it. We should use our imagination and community building efforts to reflect that in our future actions. The external reputational impact should be an additional perspective to European policy making. And to quote House of Cards once more: "imagination is its own form of courage". We need the courage to do more imaginative stuff (not copy paste) and to collaborate more, not less, so that Europe continues to deserve to be admired. This is why we rightfully celebrate 70 years of ETC collaboration, but we should also reflect on where we are and how we can do more. We owe it to Rosa, Hans, your children and their children. Thank you!
Additional reading
Vicky Van Den Heede, tourism programma coordinator at HOWEST published a fantastic summary in Dutch here.